Recap: Smart ocean tech and beyond
Oslo Business Region and Nor-Shipping recently went into a close collaboration, kicking off with a workshop on the 13th of April, gathering a diverse group of local smart city stakeholders within the Oslo area.  The aim was to assess how Nor-Shipping activities can promote the Oslo city region, consolidating its position as a natural centre for maritime, sustainable and smart tech industry.
In this special workshop we worked towards determining how we can work together to strengthen local businesses, promote the city, gain recognition for Oslo, and use Nor-Shipping's activities as a platform for building increased international interest and local collaboration.
Nor-Shipping, which has recently announced its ambition to open up new ocean industry opportunities for maritime, is looking to leverage its established international position to deliver added value for its home area.
As such it has joined forces with local organisations and businesses including Oslo Municipality, Oslo Business Region, Passion For Ocean, Choose Arena Oslo, Oslo Brand Alliance, Oslo EU Green Capital of the Year 2019, Katapult Ocean Tech, Just Cruzin Production, and Los & Co.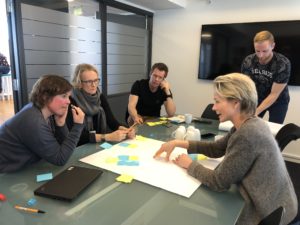 "There is a thriving business ecosystem here," comments Per Martin Tanggaard, Director, Nor-Shipping, "and we want to tap into that to push the city itself, as well as adding value to our activities and attracting new participants… and therefore new opportunities.
"By working closer with local partners we can pool our collective strengths and expertise to make a real impact on the international scene. Oslo should be the first place people look for maritime, sustainability expertise and innovation, in tech and beyond. We aim to shout that out to the world in the run-up to Nor-Shipping 2019 and far into the future."
Nor-Shipping 2019, Your Arena for Ocean Solutions, is expected to attract around 35,000 delegates, from Norway and beyond, between 04 to 07 June 2019.
#nor-shipping #oslosmartcity #smartcity #cleantech #oceantech #cleanharbour #smartharbour
---
Posted by:
Silje Bareksten
Posted on: April 24. 2018
News
,
Reports
,
Smart City
---