STARTUP DAY: Startup and the Internet of Things!
Solving problems. Sharing knowledge. Building network. #oslostartup
Place: Teknologihuset, Pilestredet 56, 0167 Oslo
Time: 1 June 2015, 09.30-15.00
Cost: Free
How to be an entrepreneur within IoT? In the beginning there were the 1 MHz CPU, 4KB memory and dial-up modems…if you had the good stuff. Today we all move around with our own mini computer. But that's not all. The things we use starts to get connected and interact. But we have only seen a small scratch of what will become in the future. Now its time to Startup within the era of internet of things (IoT)!
On this Startup Day, Torgeir Waterhouse (ICT Norway), Simen Sommerfeldt (Bouvet/Lær Kidsa Koding) and Thorsten Heller (Greenbird Integration Technology) will give you insight into how the world of IoT generate new startup opportunities. 
After lunch there will, as always, be possible to speed date with our partners and there will be breakaway sessions from Innovation Norway,The Norwagian Tax Administartion and DnB Oppstartslos. Make sure to book you seat on these workshops in addition to the general ticket.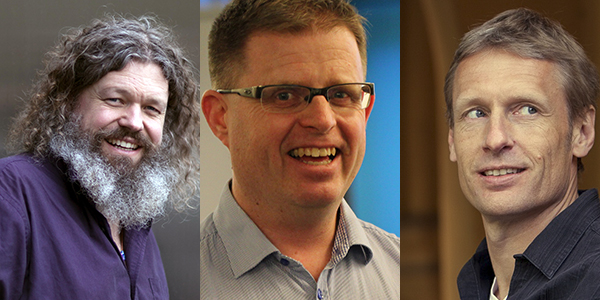 Torgeir Waterhouse                       Simen Sommerfeldt                         Thorsten Heller
Program
09:30 – 10:00 – Welcome and registration
10:00 – 12:00 – Sharing knowledge
"Internet of what" – Torgeir Waterhouse, Director Internet & New Media, ICT Norway
"Hvordan du som gründer kan hente ut potensialet innenfor IoT" – Simen Sommerfeldt, CTO Bouvet (this presention will be in norwegian)
"From smart meters to smart cities and on to the Industry 4.0: Internet of Everything for industrial organisations" – Thorsten Heller, CEO, Greenbird Integration Technology AS
12:00 – 15.30 Building network & Solving problems
Meet our helping partners and fellow entrepreneurs over a social lunch. All our keynotes and partners are here to give you guidance and concrete feedback on your startup. Prepare your problems and ask questions.
Breakaway session: Etablerertilskudd, Innovation Norway
Do you want to learn more about "etablerertilskudd", early stage funding from Innovation Norway? Who can apply, how do you apply and what can Innovation Norway offer. Join this break away session at 13.00 by registering here!
Breakaway session: Oppstart av bedrift fra A til Å, DnB Oppstartlos
The Oppstartslos at DnB tells you all you need to know when starting a company in Oslo. This session will be in Norwegian. Join this breakaway session 13.00-13.45 by registrering here! 
Breakaway session: Introduction to Taxes & VAT, Skatt Øst
The Norweigan Tax Administration will give you information about taxation and VAT and what you should know when operating a business in Norway. We will also show you where you can find more information on this subject. Join this breakaway session 14.00-14.45 by registrering here!
This Startup Day is organized by: